Iowa Bowhunter Laws and Regulations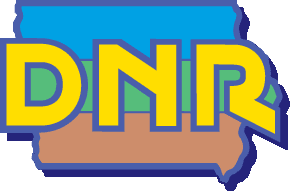 Passing this Bowhunter safety course will complete your online safety education for Iowa.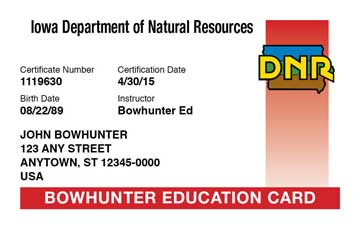 Lifetime Card
Do you need Iowa Bowhunter education?
Iowa
Iowa does not require education. You can take this course if you plan on bowhunting in states that require certification.
You must be at least 11 years old to take the online course. Students who are 11 may complete this course, but the permanent Online Bowhunter Education Certificate will not be valid until their 12th birthday.
You do not have to be a resident of Iowa to take this online course.
Elsewhere
Hunter education is currently required in all 50 states, 10 Canadian provinces, three Northwest Territories, and Mexico. A separate bowhunter education course is required in many of the states, provinces, and other countries to comply with the bowhunting laws and regulations in those jurisdictions.
The states and provinces requiring an IBEP course are:
Alaska
Connecticut
Idaho
Maine
Montana
Nebraska
New Brunswick
New Hampshire
New Jersey
New York
Nova Scotia
Quebec
Rhode Island
Vermont
Why Bowhunter Safety Education Is Important
Bowhunting is a challenging sport! This type of hunting is done at a much closer range and requires a high degree of stealth, perseverance, patience, and effort. Bowhunters must become adept at scouting, tracking, and recovering game. Bowhunters must master new archery techniques and learn the anatomy and behavior of the game. Before attempting to use archery equipment as a hunting tool, each bowhunter should become a proficient archer. This requires dedication, practice, and good distance-judging ability.
Reciprocity
All U.S. states, provinces, and other countries that have mandatory bowhunter education requirements will accept the Iowa Online Bowhunter Education Certificate. Likewise, Iowa will accept Bowhunter Education certifications that are issued by other jurisdictions that meet official IHEA-USA requirements. (This is known as "reciprocity.")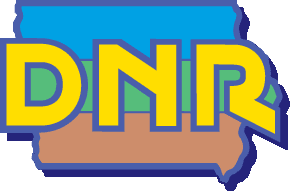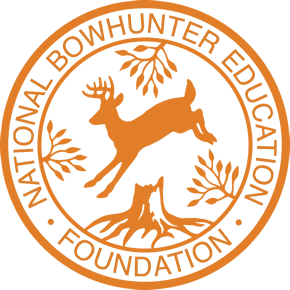 Iowa Department of Natural Resources
502 E. 9th Street Des Moines, IA 50319-0034